Is it hard for you to admit when you can't do something on your own?
Do you ever feel bad about yourself when you need to rely on other people?
I do.
If you do too, I wonder: were you raised like I was, to see self-reliance and independence as the ultimates in gilded virtues?
We are not supposed to complain.
When I dabble in my Zen reading, I am reminded: complaining is unwise. My dad put it this way: "Bite on a bullet." Or, "Walk it off." Or, "You're fine. Strong like bull."
So, okay then. We don't commiserate. We get going, because we are tough and the going has gotten tough. We just do it.
We are warriors, like one of my favorites, author Steven Pressfield, suggests.
But if all this is true, something is wrong.
With me, anyway.
Because warriors don't go into battle alone, they stand with each other. They rely on their troops. Right?
And while they are tough and they get going and they might not complain, surely they have battle stories. Surely they share tales of war and sorrow, not only courage and triumph.
I know that's right.
And what of loyalty? If we are only self-reliant, then why do we have comrades?
You might be wondering why I have all these questions today.
It's true, this is not my usual posting style, but today is not an ordinary day for me. Today I'm trying things a little differently.
You see, today I didn't stand alone. Today, I sought, and accepted, help. As in:
Help!
This week, my plan was to post about the Beatles, their harmonies, their unity… so yeah, if you read me, that's more like it. Now this one is a wee stretch, but that all kinda sorta still goes along with my theme here.
I wanted to use the song Help! because the lyrics have hit me lately.
When something hits you enough times, it's best if you do something about it.
I find it usually starts with a friendly hitting-you-in-the-arm kind of thing, then progresses to full on hitting-you-upside-the-head. Then finally, it's hitting you in the heart. And you either pay attention or you end up… well, probably with a broken heart. If you're me.
Others end up hard-hearted or heavy-hearted. Same idea.
So I decided to act on those lyrics that hit me in the heart.
Help! I need somebody
Help! Not just anybody
Help! You know I need someone
He e e e elllp….
Guess what? People, and the Universe, decided to answer my call.
Actually, it was happening before I even asked. Background help and pre-help was on the way. In the form of troops and comrades.
And Muse. And Karma. All sorts of good stuff.
So why the hell is it so hard to ask for h- hh – H- HELP! ???
It is for me, at least. Some of my favorites, like Leo Babauta, have suggested perhaps it is because I have not cultivated a flexible mind. Here is more on that in a beautiful interview with him.
Ironically, I feel self-critical about not having cultivated more mindfulness or equanimity by now. Which brings me to…
When I was younger, so much younger than today
I never needed anybody's help in any way
But now these days are gone, I'm not so self assured
Now I find I've changed my mind and opened up the doors
Open Up the Doors
So that's a good thing. Acceptance. Thank you greatest band of all time.
As mentioned, I'm posting all weird today because I asked and I received:
Help me if you can, I'm feeling down
And I do appreciate you being 'round
Help me get my feet back on the ground
Won't you please, please help me
All the above is true. First I changed my mind, then I reached out, and in return I was shored up by those I appreciate. Even before that, I was sent support, kindness…and gifts!
So what's wrong with me? Oh, the usual.
I have projects I'm worried about, paths I'm insecure to be on, and other every day stuff that is taking its toll.
(Nothing soul-crushing — or is it? — well, the bottom line is I REALLY needed help sorting shit out today.)
It's so weird because I'm almost always, ALWAYS! The Helper.
And now my life has changed in oh so many ways
My independence seems to vanish in the haze
But every now and then I feel so insecure
I know that I just need you like I've never done before
Mostly, it has been the surface stuff of life, work, money, reputation, self-judgments… Not what is to me truly meaningful, like my love or my freedom. Still. My self-worth, my decisions, my ability–if I call those into question, I feel I'm losing my footing, because I use them all day long. I need them.
How about you? Can I get a witness?
Why do we so often question (or slam) the qualities we need to do what we want?
Oh yeah, it's a habit.
An addiction, pretty much. It's the human condition. It's Resistance.
And it's the life of an amateur.
Turning Pro
Steven Pressfield said in his book that turning pro would be messy.
He said I would remember when I turned pro like I remembered when 9/11 happened.
Indeed, I'm flipping to the pages I'm about to quote and they're tearing me up.
It has happened over the course of a couple of weeks, culminating with today.
It seems it began as I read a post on stevenpressfield.com, commented on it, and received a lovely note in my email box from its author Callie Oettinger. She was kind enough after our exchange to offer me copies of books, and I was professional enough to accept them, with gratitude. (I use the library. I don't own these books, and I admitted I would like to.)
I also had not read Turning Pro. This week, I started it. That's how I know it was professional of me to accept. I was glad to find out.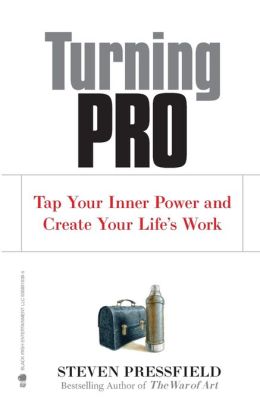 Now, perhaps you will understand why, a few days ago when I stood on wobbly ground with my self-esteem and didn't even know it, when I flipped open to page three and read the following, I cried:
The Human Condition

The Daily Show reported recently that scientists in Japan had invented a robot that is capable of recognizing its own reflection in the mirror.

"When the robot learns to look in the mirror and hate what it sees," said Jon Stewart, "it will have achieved full humanity."
Hmmm. I don't typically feel like I hate what I see in the mirror, but that just got to me! Some books come at the right time. They hit you, you know?
If this post is hitting you at all, I suggest you read Turning Pro. There is so much in there for so many of us.
Finishing up with what happened today: I got to page 91.
Number 14 on the list of "Qualities of the Professional" (from his book The War of Art) is
The professional does not hesitate to ask for help
There are other items on this list, and in this book, that got me through the day, and through my requests for help, receiving my answers, and writing this post without a broken heart.
Like a pro.
Instead, my heart is mended and stronger, knowing this: even when my problems are my own to conquer, I don't have to battle them by myself.
And neither do you.
You can do like I have: you can play hurt. Sit chilly. Not pull the pin.
Yeah, you need the book.
[NOTE: This contest mentioned in this post is over, but please get on my mailing list to receive news of the next one. I still have half a box of various books to share! Plus you get my ebook on editing like a Buddha, and a special report listing 50 Great Taglines You Can Copy, both for free.]
I'm Giving Away 3 Copies of Turning Pro
I have three extra copies of Turning Pro by Steven Pressfield thanks to Callie O., and I'm giving them away to three readers.
I don't want to host a contest to make you tweet and share to get entries. I'm not feeling it.
I simply want this book to hit others at the right time, too.
To enter to win a copy:
Leave me a comment below and tell me why you want the book. Also tell me what you think about asking for help, the idea of being amateur versus pro, or any other struggle. Do this by 10/11/14. [Sorry! Contest is over! But you can find out about the next one via email. Sign Up Here.]
I'll put this up on Twitter and Facebook too. Let's all support each other.
If you don't win, you can buy Turning Pro: Tap Your Inner Power and Create Your Life's Work
 on this B & N link (thanks!) or follow my lead and use your public library!